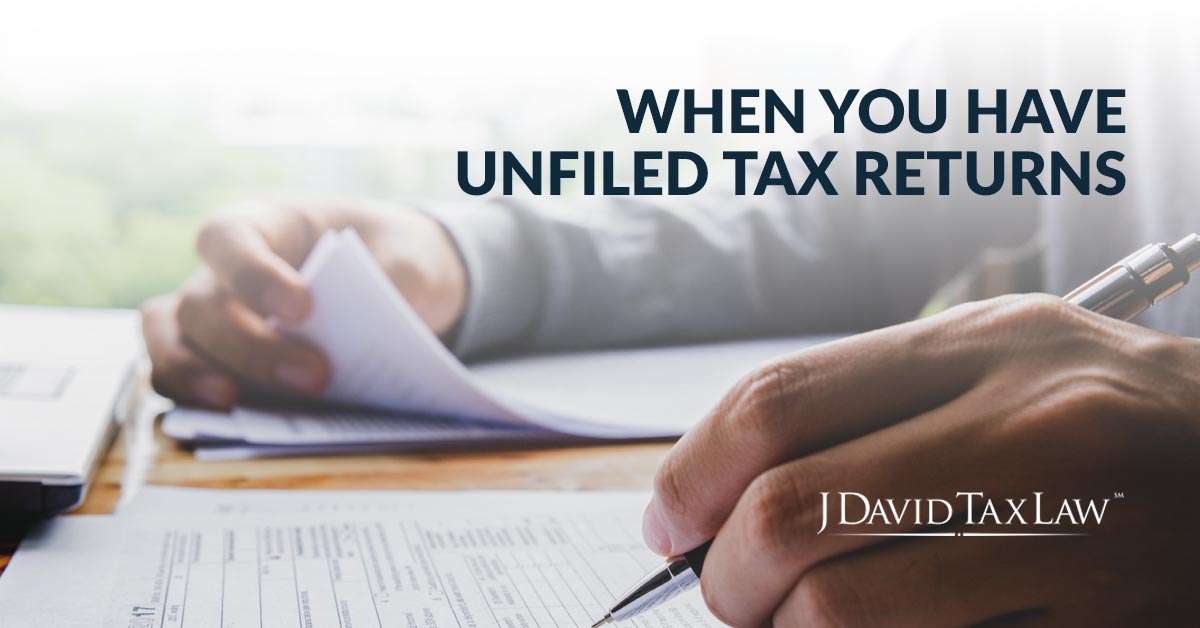 When You Have Unfiled Tax Returns
When an individual or business has unfiled tax returns it can lead to some of the most severe consequences possible in both IRS and State tax situations. Most individuals or business owners don't realize that failing to file tax returns is a crime that the IRS does pursue. Under the United States Federal Penal Code willfully failing to file a tax return is a Federal misdemeanor for each year unfiled. Further, not filing multiple tax returns can be looked at as an "overt act of tax evasion" and is a felony under Federal law.
The other ramifications of not filing tax returns whether it be Federal or State are that eventually, you will receive the CP59 letter from the IRS. That letter is a request for the taxpayer to file a return. If a tax return isn't filed after that the IRS or State will file a Substitute for Return (SFR) for each year of unfiled taxes. Those unfiled years will be filed at a married single or as a single filer status. Any deductions or credits will not be allowed and the return will be filed at the highest possible tax bracket based on information the IRS or State have about your past income.
On top of that, the IRS assesses a Failure to File penalty of 5% per month that the return is unfiled up to the maximum of 25%. This is for each unfiled year. J. David Tax Law has seen hundreds of situations where tax debts of a few thousand dollars end up being tens of thousands of dollars due to the Substitute for Return filings and the 25% penalty for each unfiled tax year.
Unfiled Tax Returns Will Impact Your Qualifications for Stimulus Checks
Another consequence in the post-Coronavirus world of unfiled personal or business tax returns is that if you have not filed a 2018 or 2019 Federal tax return you will not receive a Coronavirus Stimulus check. Unfiled tax returns will also preclude the unfiled individual or business from receiving future Coronavirus Stimulus money. For business owners unfiled tax returns will deny them the Payroll Protection Program loans that are part of the CARES Act which is the Coronavirus Stimulus Package.
Having unfiled tax returns always leads to severe tax problems that can make an individual or business owner feel hopeless. Even when a person or business wants to get their back taxes filed they don't have their W-2 information or know where to turn to get it. Individuals must have their W-2 information from past employers to ensure that their past unfiled returns are accurate in the income they received.
Our Tax Attorneys Can Help with Unfiled Tax Returns
At J. David Tax Law we have access to the IRS database that allows us to retrieve the income and W-2 information we will need to file from twenty years of unfiled tax returns to as little as one year. Being in compliance with the IRS and State leads to peace of mind that many unfilers haven't experienced in years. Knowing you haven't filed and that the IRS, State, or both are coming for you robs you of your peace of mind. Contact J. David Tax Law now at (877) 845-2460 for a no-cost consultation with a tax professional and let us give you greater peace of mind.
At our firm, you will only work with a tax attorney and we have a full staff of tax preparers that can piece together even the most complex of tax returns.
Remember, peace of mind is only a click or a phone call away.