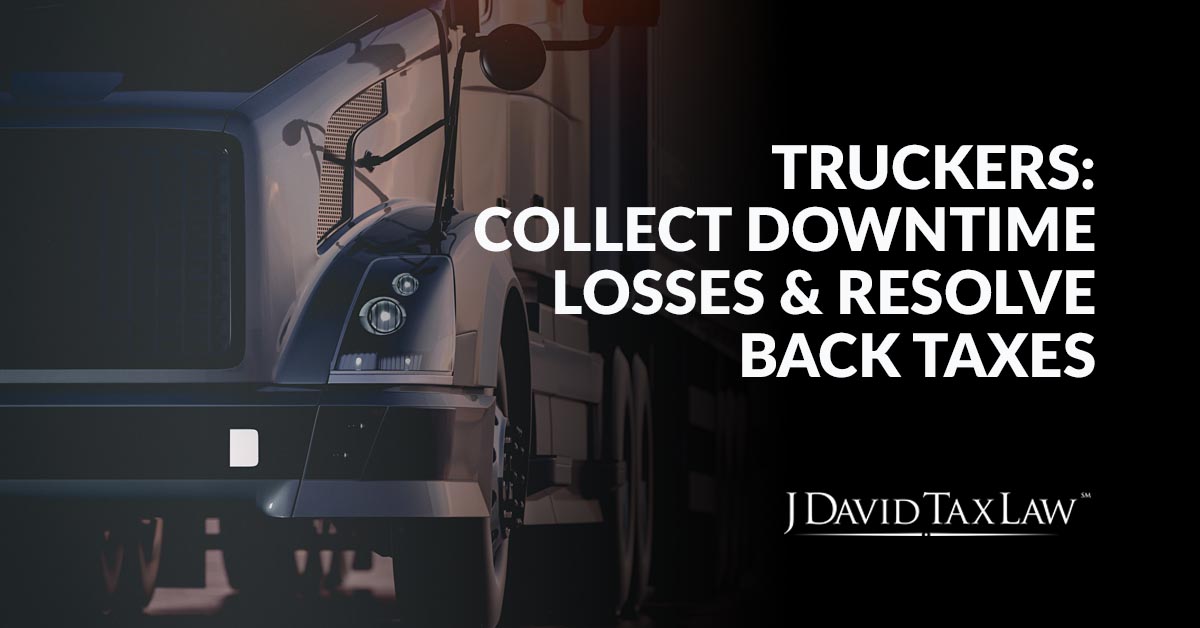 Truckers: Collect Downtime Losses & Resolve Back Taxes
Author: Attorney Kelsea Eckert
Death and Taxes, these are guaranteed. But what about collecting money that's due you? How do you improve the odds of getting back what's rightfully yours?
Financial Impact of Accidents on Owner Operators
A traffic accident can cause huge losses of income. It can send a small trucking business into a downward financial spiral. For owner operators with one truck, their truck is the lifeblood of their business and often the sole income for their family. Without equipment, income stops. Expenses do not. It's easy to get behind on truck payments, mortgage payments, and yes, even taxes.
Claim Your Lost Income
If you were in an accident that was not your fault, consider pursuing the other driver's insurance company for all of your losses. Losses include not only the repairs, but your lost income and the diminished value of your rig. While each state's laws are unique, most states allow for you to be made whole and collect these losses.
Get Help Pursing the Insurance Claim
Once your truck is fixed, you're most likely focused on getting back to work as soon as possible, reestablishing contact with customers, and delivering loads on time. Getting cash flow into the account is at the forefront of every owner's mind. However, focusing on the road doesn't leave a lot of time to follow up on insurance claims. That's okay because there are law firms that can assist you with your claim. Again, each state's laws are different and have limits on the time you can file a claim. This is called Statutes of Limitation on downtime claims and IRS tax debt. An attorney would be able to determine how much time you have to file your claim.
Use Claim Money Towards Your Back Taxes Settlement & Other Bills
It's not fun getting bills that you can't afford to pay, and even worse getting notices from the IRS. It can cause stress and unnecessary worry. So, consider pursuing your downtime claim and once you've settled it, use some of that money towards resolving your bills and IRS responsibilities with a reputable tax law firm such as J. David Tax Law. The quicker you can put this accident and its problems in your rearview mirror, the quicker you will be back in the driver's seat of your business again.
About the Law Offices of Eckert & Associates, PA
Eckert & Associates, PA aggressively pursues and collects downtime and property damage claims for owner-operators and fleets. With decades in the transportation industry, our staff knows the trucking industry. We offer free consultations and no up-front costs. Services available nationwide.
For more information about downtime claims, CLICK HERE
For a free, no obligation consultation, CLICK HERE
About the Author
Kelsea Eckert has been an attorney for over 30 years. She holds licenses in Florida and Illinois. Kelsea enjoys helping clients resolve their insurance claims. As a pioneer in trucking downtime claims, she remains active in the transportation community and regularly speaks to groups about insurance and downtime topics.